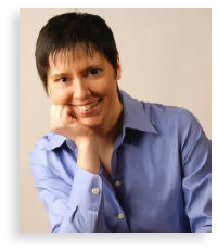 As a FeldenkraisⓇ practitioner its been incredibly rewarding to not only enable others to live more pain free lives, but better lives.
Enhancing awareness and developing our ability to explore and learn leads us to bigger, fuller, more complete lives.
It was actually my own search for a more enjoyable work life that lead me to theFeldenkrais MethodⓇ
After earning my Bachelors of Medical Rehabilitation in Physical Therapy from the University of Manitoba in 1991 and working for only a few short months, I knew I had to make some sort of change in my career. Although the the material I studied in university was extremely interesting (at least most of it was 😉 ) the actual practice of it made me question why I was doing things the way I'd been taught.
You see, for me, people are not made up of a bunch of parts.
You and me are each an integral, whole, complex being. Our thinking, our sensations, our emotions, and our movements are all part of each and every action, each and every moment of our waking life.
So treating back pain without looking at how the whole person is moving and functioning just didn't make much sense. And, wouldn't you know it. The results for my clients weren't always what we'd been looking for. I was actually told in physio school: "Remember, you are not treating a part, but a person". And yet, that wasn't exactly what they taught us to do. Actions speak louder than words! No wonder they felt they had to give us that reminder…
Don't get me wrong!
I think very highly of many physiotherapists (physical therapists to our US friends), and refer friends, family and clients when the need arises. But for me, it just didn't feel like a complete system of practice, at least not in the way I wanted to practice.
The Feldenkrais Method includes an amazing understanding of anatomy and physiology and neurology. And more importantly it is about awareness, mindfulness and learning. Now this was how I wanted to practice, and why I'm still doing it!
Can I guarantee that I can relieve any one from all their pain?
No, I can't. But I can say that I have helped very nearly everyone who wants to help themselves that has come to see me.
Am I some kind of magical guru genius?
Of course not. Far from it! Its just that the Feldenkrais Method is such a sound method, based on science and clear thinking. Its depth always amazes me, and I am learning more and more even after over a decade of practice.
I have an insatiable love of learning, and I've got a bloodline filled with teachers.
My dad was a teacher, his mother was a teacher, all his 4 siblings were teachers, my sister teaches at college, and my two brothers both married teachers. Not only that – my husband Sean, although a palliative care nurse, was called by the university and asked if he would take a position as a clinical education facilitator for the School of Nursing — so wouldn't you know it — I married a teacher too!
I guess you could say I came to this work of the Feldenkrais Method honestly. I love movement and helping people not only move better, but learn to learn better. I myself am totally hooked on learning. And teaching – well, it seems to be in my blood.
This work is life changing for so many. So why isn't it better known?
Well, that is a good question. Part of the answer is that, really, there aren't that many of us practitioners- something like 6000 or so worldwide. To be on par with the number of physiotherapists or massage therapists in North America alone, we'd need to have something like 60,000 practitioners on this continent alone!
It is a long process to become a FeldenkraisⓇ practitioner. It takes roughly three and half to four years to complete a training and become certified. Learning about the complexity of human action, how we learn and how to best access neuroplasticity, how to manage attention, how to develop informed touch and so much more take time to develop.
I think another big part of the answer is that Feldenkrais practitioners as a group really suck at marketing. As a group we tend not to be very business minded. We just want to help people live more fulfilling lives. But I see this changing. I see colleagues doing the coolest things online these days. There is a change afoot in our community for sure.
I've been amazed at my willingness to spend so much time learning how to develop this aspect of my business when all I really want to do is learn more about and develop my skill as a practitioner/teacher. (Which is why I did the work of completing my application to become an Assistant Trainer of the method — which, thankfully, was approved in 2011).
Although my passion is learning about systems theory, neurology, anatomy, somatics, embodied cognition, learning theory and the like, I still make time to learn how to communicate and share about this method online to people who have never done a Feldenkrais lesson or even heard of it.
Social media is not my thing at all, and learning to blog is not something I ever thought I'd be doig. But for the sake of sharing this amazing work and helping others move better, feel better and live better — I'm doing it!
It'd be so much easier to just keep my practice a local practice in my studio here in Winnipeg. Once people experience my teaching first hand  it is so much easier to communicate with them about the method. But I can't seem to let go of the idea of helping as many people as I possibly can, and so I'm stretching myself to share this work on a larger platform.
What's really cool is I get to do all this out of the best space I've ever worked from — the comfort of home!
When my husband and I bought our house in Winnipeg, Manitoba in 2003 the first thing we did was turn 3 bedrooms into a dedicated 450+ square foot Feldenkrais studio. The clear space, large windows, and second floor location allow great natural light and prairie property views, with the sounds of birds singing and chirping a regular bonus.
Almost everyone who comes comments on how nice it is to have "space for the eyes to roam".
When pain relief and developing self-awareness are their primary goals, this makes our location special. From the 75 year old suffering back pain to the 4 year old needing help with balance and walking to pretty much everyone in between, the walk to those windows to have a look around just becomes part of their experience here.
But of course, the primary reason for them to come to Sunyata Movement Studio isn't the prairie view…
but the safe, comfortable space for them to explore and learn how to become their own best ally in their search for a more comfortable, more active and enjoyable life. It's a place where the fundamentals of the Feldenkrais Method – natural flowing movement, learning, mindfulness and awareness are fostered.
But all work and no play make Gisele a cranky woman (as much as I love my work)!
My love of motion made me an active kid and growing up in the cottage country of Lake of the Woods, activities were endless: swimming (I even taught way back then – swimming lessons), canoeing, windsurfing, kayaking, water skiing, downhill skiing, cross-country skiing to name but a few. My passion throughout school was running. Eventually I got to be ranked in the top 20 as a 400m hurdler in Canada. But that's not actually saying much as Canada did not have a very deep field in that event in those years.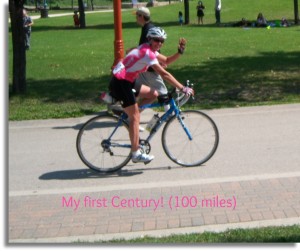 My big claim to fame was receiving the first ever "Most dedicated athlete" our club ever offered. I know, not such a big "claim to fame" 😉 ! I have to say, it still kinda makes me chuckle. I didn't understand why I got the award! What else is an aspiring athlete supposed to do but what I was doing? Wasn't that just normal?
These days I'm mostly into road cycling, hiking and canoe tripping in the summer, and snowshoeing and cross country skiing in the winter to keep my blood moving and to clear out the cobwebs.
But what really receives my time and energy outside of work is my family. Sean and I have a rather large yard and grow an awful lot of vegetable and some fruit to boot. This makes our summers insanely busy, as summer hear in Winnipeg is short and so is the growing season. Our latest addition to our food growing adventures has been oyster and shiitake mushrooms. Who knew you could grow such mushrooms in "Windy Winterpeg"?! But you can. And they're delicious!
Life is rich, and it can be a challenge to do everything I love to do when I care as I do about my work and my family. Just hanging out with Sean and our two dogs and taking care of our rather large yard and vegetable garden can fill days easily. But an engaged life is a great life!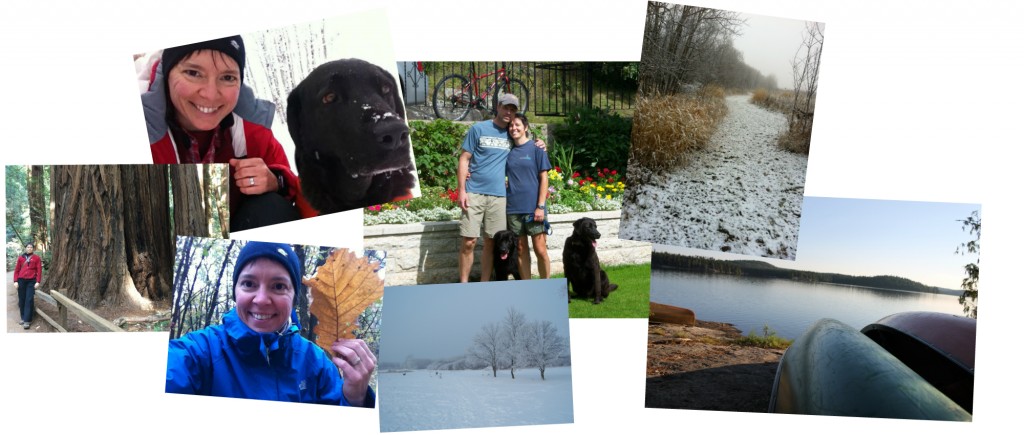 [add work with me link or button or some call to action or redirect]